Our greetings to all in this New Year… may God's blessings be upon you.  Some of our blessings have been:
Apostle Buzz Brickhouse had surgery in August; another surgery to remove cancer in September; a heart attack and two new stents in October; rehab; and surgery for removal of cancer once again since.  It's been a rough road, but we are so thankful the Lord has brought him through.  Br. Buzz was able to preach a wonderful sermon on December 29th, and we are all grateful for his example of strength and faith. Please keep him in your prayers.
Apostle Mike McGhee had open heart surgery in September; his Aortic valve was replaced, and he had three bypasses. We're so thankful the Lord brought him through this trial.  Br. Mike is anxious to get back to the Philippines; we pray for his continued healing so that can be possible.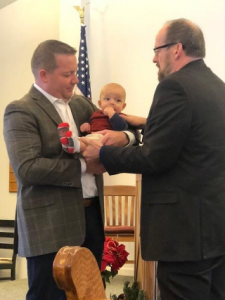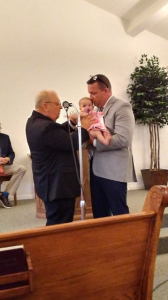 We were blessed to witness several baby blessings since our last report; Laney Oldham, daughter of Br. Jason and Liz Oldham, whose blessing was done by Elder Bob Oldham and Apostle Jeff Oldham; and  Karson Berwick, the son of br. A.J. and sr. Charity Berwick.  His blessing was done by Elder David Rudd, assisted by Apostle Jeff Oldham. May God's blessings shower these little ones all their lives!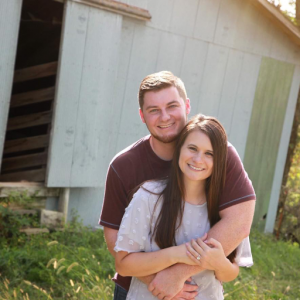 We are excited to report br. Trenton Oldham is engaged to Avery Snodgrass and planning a May, 2020 wedding.
On October 20th we enjoyed a program entitled, The Women of the Bible, with "Eve, Sarah, Rahab, Naomi, Esther, Mary, Martha and Mary." The program was greatly enjoyed by all.
Sr. Dana Taylor is under a new treatment for Myasthenia Gravis.  She had been doing well with a new treatment until early November, when she suffered another episode.  We are so thankful that the Lord's healing hands have been with her and brought her through it once again. Please continue to pray for her.
Sr. Diane Brockman has now finished her chemotherapy. We are so thankful for her renewed strength.
Sr. Kathy Clark went through chemotherapy, has had many ups and downs, but now is doing better.  Br. Ralph Clark has changed doctors and his condition is now improving; we are grateful for their improvement.
Sr. Cheryl Taylor had a knee replacement the end of September.  We're very thankful that she has come through it well, and is feeling much better.
Br. Bob Oldham spent three weeks in Honduras doing missionary work; following that he and sr. Jennifer visited Michigan for a couple weeks, and then a trip to Phoenix to fill out the year.
We are happy to report that Br. Eric and sr. Sheila Sarratt have been able to adopt a 3-year-old they've been fostering… Cole is now legally a Sarratt!  We are so grateful and happy for them; please keep this family in your prayers for their health and their jobs.
Apostle Roland and sr. June Sarratt also need our continued prayers for their health and strength.
We are sad to report that Br. Michael Kimball passed away at the end of October. It was a shock to all of us. Please keep his family in our prayers.