After a long, hard winter here, our Spring began with the East Local's Annual Business Meeting on April 22nd.  We take this opportunity now to report a change in our East Local line-up: Elder David Rudd remains our Pastor, with Assistant Pastors now being Elder Isaac (Bick) Brockman Jr. and Priest Bruce Haines.
Joyous baby blessings to report are a baby boy, Isaac, to Br. Tom and Sr. Renae Arnold on November 22nd. Shortly after birth, baby Isaac had surgery to correct damage caused by Spina Bifida. The Lord blessed him greatly with less damage than predicted by the doctors; he is doing very well and we pray for continued healing.  A baby girl, Laney Bella Oldham, was born to Br. Jason and Liz Oldham on March 8th.  Another baby girl, Macy Layne, was born to Br. Tony and Sr. Lindsey McIndoo on April 2nd, here visiting with parents Br. David and Sr. Becky Rudd while they and big sister Blakley awaited the birth.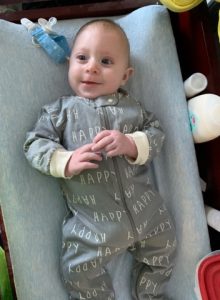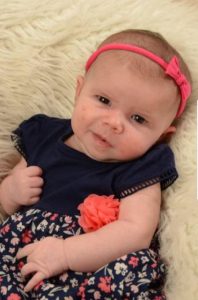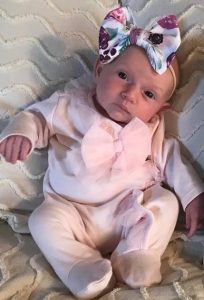 Br. Bob Oldham made a missionary trip to the Southeast, and on his way home he was sideswiped by a vehicle and forced into another vehicle.  He wasn't injured, but his truck and trailer suffered much damage. We are thankful for the hand of the Lord and His blessing of protection on Br. Bob!  He was still able to drive the vehicles several thousand miles to finish his rounds and then home before repairs were made. It was a miracle that the truck and trailer held together!
Br. Bruce Haines spent several winter months in Michigan caring for his mother, Sr. June Haines, while Sr. Deb Haines stayed in Independence caring for their daughter, Jenni, who was on bedrest. It was a difficult time and, sadly, the loss of the baby who was born too early. Thank you for your prayers during this time.
Meantime, others from the local were fighting their own health problems. We thank the Lord for His watch care over them:  Sr. June Sarratt spent much time in hospitals and rehabilitation centers until she was finally able to return home with help. What began with a broken femur bone continued on to a diagnosis of Pulmonary Edema and Congestive Heart Failure.  We praise the Lord that she is doing much better now and able to join us at church again. Please keep her and Br. Roland in your prayers.
Apostle Smith "Buzz" Brickhouse began having some A-fib symptoms. He underwent an Ablation procedure which seems to have corrected the problem, and he is once again doing well and continuing his dialysis. We keep him in our prayers for his health and to be able to have a kidney transplant as soon as the Lord makes it possible.
Sr. Dana Taylor and Sr. Renae Arnold continue to stand in need; please keep them in your prayers for the rare Myasthenia Gravis they both suffer with.
Br. David Taylor, Sr. had surgery, and with God's blessings has recovered nicely.
Apostle Mike McGhee went in for surgery to repair an irregularly shaped retina, which affected reading for a time following his last trip to the Philippines.  The surgery had to be postponed that morning due to a low heart rate. The following week he had a pacemaker installed, and the eye surgery can be rescheduled anytime.
Br. Ralph Clark is in need of our prayers for his health problems; he has been too weak to be able to come to church. Please pray that God will strengthen him and Sr. Kathy.
Sr. Diane Brockman stands in need of our prayers, as she underwent surgery on April 30th. We pray for her recovery and that tests come back indicating she won't need further treatment.
I close this rather lengthy report now, heavy with prayer requests; and ask for your prayers to be added with ours for our loved ones. It's been a long winter for everyone…but God is good.
May God bless you all abundantly is our prayer.